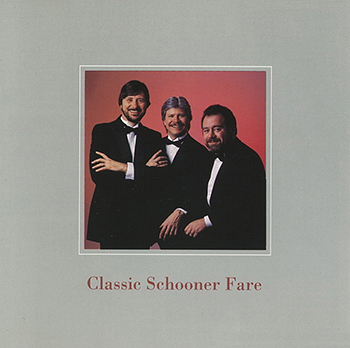 OGR 8891
Released 1989
---
It really isn't hard to imagine the pride we felt the first time we performed our songs in symphonic arrangements. The very same pride was clearly reflected in the faces of so many of these friends and loved ones in the audience--some from far and wide--friends who'd never met each other--some who'd been at our first concert years ago.
For thirteen years we have sung most of these songs to an ever widening group of regular listeners and fellow singers, most of whom we now call friends. Many of these friends have seen us perform in every imaginable, and not so imaginable, venue. Some travel outrageous distances to spend some time with us. Some we see only when we come to their neighborhood. Still, they are the same people. Always there are the smiles, the encouragement and good wishes. They have much more than our music in common.
Because we have all come a long way together, we're extra happy that so many shared our excitement in performing these orchestrations. We present this recording, delighted that those moments will be more than memories.
This is a special recording. Bon voyage.
Chuck Romanoff
---
Songs should be interesting, if not fun. Part of the fun of this, our seventh album, is the ambiguity of "classic" juxtaposed with our constant objective to entertain people with intelligent, interesting material. The fact that we write the material and normally perform it in a totally self-contained folk trio format becomes great fun when we have a full symphony orchestra behind us. The arranger, Mike Braz, took several of our standard original songs which have become signature songs for us over the last thirteen years (hence, the title "Classic Schooner Fare") and tastefully, brilliantly, arranged them for full orchestral accompaniment; and he did so with an intuitiveness that would suggest he had known us and our music for years, which he hadn't.
I originally wrote "Leviathan" as a theme song for a television documentary on the return of the whales to the Gulf of Maine. The title I borrowed from Melville, the theme from Albert Schweitzer who observed that "societies will distinguish themselves as great by their reverence for all creatures." The undulating rhythm of the whale in the song naturally lends itself to a symphonic scale. The "Atlantic Suite", as Tom dubbed the medley of four of my songs: "The Day of the Clipper," "The Kingfisher," "My Lady in Waiting" and "Portland Town," is as rhapsodic in its treatment of the musical themes as the songs are eclectic in content. This fifteen-minute "piece" is a joy to perform with live orchestra. Tom's "John Cook" was inspired by an O'Neill play and has the drama and pathos of a desperate whaling crew prophetically locked in the arctic ice for an entire year. "The Mary L. McKay" relives a record-setting Downeast tear from Portland, Maine, to Yarmouth, Nova Scotia, on a legendary Grand Banks schooner.
"The Ballad of Mad Jack" and "Powder Monkey" are both Boston-inspired. The former excerpts a fraction of the outrageous episodes in the long life of one of America's great heroes, Capt. John Percival. The Cape Cod native terrorized the British navy in the War of 1812 and single-handedly saved U.S.S. Constitution ("Old Ironsides") from an ignominious scuttling, only to supervise her refitting and to skipper her to the Orient and back. The latter was inspired by a concert we gave aboard Old Ironsides one Fourth of July during which we learned of the very young boys (powder monkeys) impressed aboard the old warships to carry gunpowder from the magazine in the hold to the gundecks where they poured it down the bores of red-hot cannon. The parallels between such past practices and the all too current need for enlightened action toward outlawing organized warfare resulted in this song.
"We the People" was written long before the Constitutional Bicentennial hoopla. Its impetus was the first Reagan-Gorbachev summit and the profound belief that humans can, if they truly desire to, nonviolently solve the global human problems they have created. Drawing from Isaiah, John Donne, James Madison and Edmund Burke, the song re-asserts the universal message of peace...and the fundamental logic of love...and the irrefutable wisdom of natural wisdom.
Steve Romanoff
---
It was Barbara Trafton's idea. She wasn't the first person to suggest Schooner Fare with the Portland Symphony, but she was the first to have a plan to make it happen. When I told her the biggest problem was getting the arrangements done she asked if I could do them. I said that I could if she wanted the concert sometime after the turn of the century. Barbara posed the idea and the problem to Bruce Hangen (former conductor and music director of the P.S.O.), and Bruce suggested Mike Braz. Michael was commissioned to write and we were off. Michael, Bruce and I met to choose material and I knew from that first meeting that we had a special chemistry. Mike seemed to have such a good feel for our material that I felt comfortable entrusting it to him. And he has yet to disappoint. Those early rehearsals with Mike were so much fun, more like a jam session than work. Then we played it with the orchestra for the first time on a hot July day, and it was magic. Michael's ideas were tailor-made. Many of the musical ideas that Mike came up with worked so well that we have worked them into our arrangements with just the three of us. Two years later we came back to reprise our concerts with the P.S.O. and once again Mike was up. This time he arranged long distance from Georgia with only tapes to work with. And once again he hit it out of the park. We had three more sensitive beautiful arrangements to add to the repertoire. Lo and behold enough for an album. With the help of countless folks we have documented this music with the Atlantic Chamber Orchestra and I have never been prouder of anything we've done than I am of this recording. I hope you enjoy it even a little bit as much as we've enjoyed making it.
Tom Rowe
---
Any recording project of this magnitude owes its existence to a great number of dedicated people. We would like to thank some of them. Special Thanks to: Barbara Trafton, whose vision first conceived this musical marriage and whose tenacity made it a reality; Russ Burleigh, former manager of the Portland Symphony Orchestra, and Jane Hunter, the current manager, who on separate occasions provided the climate necessary for all concerned to make music; Bruce Hangen and Toshiyuki Shimada, former and current conductors of the P.S.O. who breathed life into the initial performances of this music; the members of the Portland Symphony Orchestra who performed these arrangements with us live with great caring and great enthusiasm; the staff and management of the P.S.O. who were a great help from the first performances to lending us the equipment needed for the recording sessions; Dick Cerri who insisted that this album be made and then helped us find a way to make it; Susi Baldwin, director of the World Folk Music Assn. who helped us get together with Joel Feidelman; Joel and Jan Feidelman, without whom we could never had gotten this record off the ground; John Stuart for handling a difficult engineering project with great patience, class and ability; John and Joanne Schnell, who were with us every step of the way, from organizing the orchestra to the final mix-down session; Russ Rowe who moved the equipment, filled parking meters, ran for sandwiches and generally kept things running smoothly; the members of the Atlantic Chamber Orchestra, for playing great, and being the professionals that you are; finally, Mike Braz. His heart and soul are in this project. He wrote these wonderful sensitive arrangements, conducted the orchestra and helped us produce what you hear. Without his genius none of this would have been possible. To all of you our gratitude, our love and our respect. Extra Special Thanks to: Claudia Burgess, Steorra Enterprises, Diane Potenzo, Gail, Donna and Pam.
---
Song List
Leviathan | The Ballad of Mad Jack | The Mary L. McKay | Powder Monkey | We the People | John Cook | The Atlantic Suite: Day of the Clipper, Kingfisher, Lady in Waiting, Portland Town