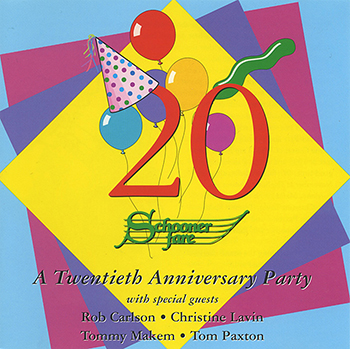 OGR 8942
Released 1999
Out of Print
---
The first thing you need to know about this recording is that it really was never intended to exist. When we first decided how we would document our twentieth anniversary we knew that the concert by its very nature would be difficult enough to pull off without the added worry and pressure of a recording. We had decided that our birthday party would be just that, a party! And we wanted to invite some of our favorite friends to help celebrate with us. Our actual anniversary actually falls in early November but we first staged the Schooner Fare and Friends show at the Filene Center of Wolf Trap in the summer of 1995 and it was a smashing good time. We followed that show in November at the State Theater in Portland, Maine, with the same line up--Christine Lavin, Tommy Makem and Tom Paxton--and to this show we also added another pal, Rob Carlson. As we were finishing the sound checks for the concert, Maine Public Broadcasting's Micah Engber stuck his head into the dressing room to inquire if he could get a copy of the tape of the show. When we told him we weren't taping he was horrified. Micah asked if we minded if he brought a tape deck in from his car to capture the show so at least he could have a copy. Nobody minded so Micah set up his machine and that was the last we thought of it until we got a copy of the tape in the mail. We all agreed that though it was really not good enough to make an album, it was still a great memoir of a terrific party.
After a couple of years to ruminate we started thinking of the tape in different terms. Hey, if we loved it warts and all, maybe it wasn't really fair to keep it just for ourselves. After much time and decision-making about what to leave in and what to leave out, we finally have--three years down the road--your copy of the concert. No, it's not everything from the evening but it is the highlights of a truly fun event.
Those of you looking for an audiofile document should immediately return this album for credit. There are cracks and pops, wrong notes, strange harmonies and all manner of live recording faux pas almost anywhere you want to look. But all that aside it's still a wonderful document of a magical event and we hope you will come to love it as we have.
Tom, Chuck and Steve
---
Song List
1. Scuttlebutt--Schooner Fare
Chuck Romanoff, Outer Green Music Co. Inc., ASCAP

2. Quebecois--Schooner Fare
Tom Rowe, Outer Green Music Co. Inc., ASCAP

3. Geraldo/Rob's Rap/You Can't Be Irish if You're Gay--Rob Carlson
Rob Carlson

4. The Last Thing On My Mind--Tom Paxton with the full cast
Tom Paxton, EMI, ASCAP

5. Sensitive New Age Guys--Christine Lavin with the full cast
Christine Lavin

6. The County Song--Schooner Fare
Steve Romanoff and Anne Jepson, Outer Green Music Co. Inc., ASCAP

7. Four Green Fields--Tommy Makem with Schooner Fare
Tommy Makem

8. All Coming Together--Tom Paxton with the full cast
Tom Paxton, PAX Music, ASCAP

9. The Honor of Your Company--Tom Paxton with the full cast
Tom Paxton, PAX Music, ASCAP

10. We the People--Schooner Fare with the full cast
Steve Romanoff, Outer Green Music Co. Inc., ASCAP

11. Red Red Robin--Schooner Fare with the full cast
Henry Woods, Bourne Co., ASCAP